BOMA Greater Minneapolis started when a group of commercial property managers and owners decided in 1904 they would have a greater impact if they spoke with one voice.  As the second oldest BOMA in the country, their model of speaking with one voice was replicated across the nation and led to the creation of BOMA International in 1907.
Today, BOMA strongly advocates for you on federal, state, county, and city issues.  Here is how we do it:
Employ a full-time bi-partisan lobby firm to represent you on state and local issues
Access to two full-time lobbyists to track issues on the federal level
Team up with like-minded stakeholder groups to strengthen your voice
Government Affairs Council meets with decision-makers and tracks issues important to you
Quickly respond to issues of concern and rally support
While our efforts have yielded many successes, for 2023-2024, our efforts are focused on four areas which include:
Taxes
Public Safety
Workforce Development
Regulation (Energy & Sustainability)
BOMA is constantly monitoring current issues of concern, such as...
E-bikes flammability
Restroom mandates
Building code changes
Advance notice of sale
And more...
If you want to leverage BOMA's one voice issue, call us.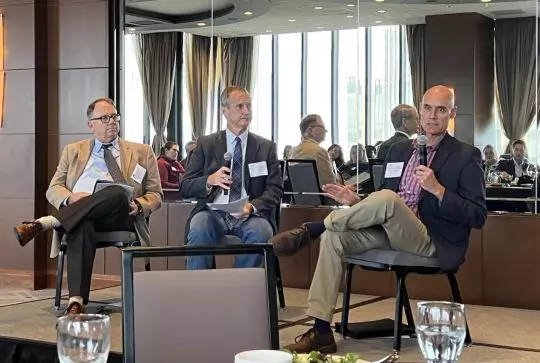 BOMA held an election preview with political experts Todd Rapp and Gregg Peppin, moderated by KSTP's Tom Hauser.
BOMA members taking in the view from the Speaker of the House rostrum.