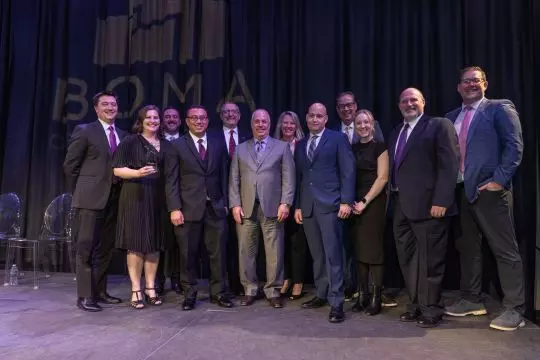 The Outstanding Building of the Year (TOBY) Awards Program is an international competition, which originated in 1985, that recognizes properties that exemplify superior building quality and excellence in office building management. The award is the most prestigious and comprehensive award in the commercial real estate industry.

Participants are judged on the effectiveness of their overall management in various categories, including community impact, tenant relations, energy management, emergency preparedness, and training for personnel. Detailed property inspections, floor plans, building standards, and photographs complete the entry portfolio and allow the judges to examine all facets of the property and management thoroughly. 
For more information about the TOBY Awards, contact BOMA Staff Membership Manager. Information about the TOBY competition will be available in mid-August. 
TOBY Winners
* Local Winner




** Regional winner




*** International winner
Please let us know if there is missing information; we are displaying the information to the best of our knowledge. 
2023
100,000 - 249,999 Square Feet 
Norman Pointe 1, Piedmont Office Realty Trust *
500,000 - 1 Million Square Feet
US Bancorp Center, Piedmont Office Realty Trust ***
Corporate
950 Nicollet **
Suburban Office Park Mid-Rise
Centennial Lakes Office Park *
2022
100,000 - 249,999 Square Feet 
T3, Hines **
250,000 - 499,999 Square Feet
7700 France, Frauenshuh Property Management **
Corporate
950 Nicollet, JLL **
2021
100,000 - 249,999 Square Feet 
Norman Pointe 1, Piedmont Office Realty Trust *
250,000 - 499,999 Square Feet
Crescent Ridge Corporate Center I, Cushman & Wakefield *
500,000 - 1 Million Square Feet
US Bancorp Center, Piedmont Office Realty Trust **
Over 1 Million Square Feet
Fifth Street Towers, Zeller *
Historical 
TractorWorks, City Center Real Estate Services *
2020
100,000 - 249,999 Square Feet 
Kraus Anderson Headquarters, Kraus Anderson **
250,000 - 500,000 Square Feet 
Crescent Ridge Corporate Center I, Cushman & Wakefield **
500,000 - 1 Million Square Feet
LaSalle Plaza, Zeller Realty Group **
Over 1 Million Square Feet
Fifth Street Towers, Zeller Realty Group, **
2019
250,000 - 500,000 Square Feet 
Crescent Ridge Corporate Center I, Cushman & Wakefield **
500,000 - 1 Million Square Feet
AT&T Tower, Ryan Companies ***
Over 1 Million Square Feet
Fifth Street Towers, Zeller Realty Group, **
Industrial
Waterford Innovation Center, Duke Realty ***
Historical
Colonial Warehouse, The Excelsior Group **
2018
250,000 - 500,000 Square Feet 
Normandale Lake Office Park - 8200 Tower, Piedmont Office Realty Trust ***
Corporate 
Target Northern Campus, Target Corporate Real Estate ***
Industrial
Waterford Innovation Center, Duke Realty **
Renovated
100 Washington Square, Shorenstein Realty Services **
2017
250,000 - 500,000 Square Feet 
Crescent Ridge Corporate Center II, Piedmont Office Realty Trust **
500,000 - 1 Million Square Feet
Marquette Plaza, Base Management, LLC *
Corporate
Target Plaza, Target Corporate Real Estate **
Renovated
RBC Plaza, Cushman & Wakefield/NorthMarq **
Suburban Mid-Rise
Centennial Lakes Office Park ***
2016
250,000 - 500,000 Square Feet 
The Colonnade, CBRE **
500,000 - 1 Million Square Feet
AT&T Tower, Ryan Companies **
Historical
Ford Center, Cushman & Wakefield/NorthMarq ***
Medical
Tria Orthopedic Center, Cushman & Wakefield/NorthMarq ***
Renovated
RBC Plaza, Cushman & Wakefield/NorthMarq **
Suburban Mid-Rise
Southdale Office Centre, Colliers International **
2015
100,000 - 249,999 Square Feet
One Southwest Crossing, Colliers International *
250,000 - 500,000 Square Feet 
The Colonnade, CBRE **
500,000 - 1 Million Square Feet
AT&T Tower, Ryan Companies **
Over 1 Million Square Feet
Capella Tower, Ryan Companies ***
Medical
Tria Orthopedic Center, Cushman & Wakefield/NorthMarq **
Renovated
330 South Second, RMR **
Suburban Mid-Rise
Southdale Office Centre, Colliers International **
2014
100,000 - 249,999 Square Feet
One Southwest Crossing, Colliers International *
250,000 - 500,000 Square Feet 
The Colonnade, CBRE **
500,000 - 1 Million Square Feet
US Bancorp Center, Piedmont Office Realty Trust ***
Over 1 Million Square Feet
Capella Tower, Ryan Companies **
Earth
333 South Seventh, CBRE **
Corporate
Target Plaza **
2013
100,000 - 249,999 Square Feet
One Southwest Crossing, Colliers International *
250,000 - 500,000 Square Feet 
Southdale Office Centre, Colliers International ** 
500,000 - 1 Million Square Feet
Fifty South Sixth, Hines *
Over 1 Million Square Feet
Capella Tower, Ryan Companies **
Renovated
Wells Fargo Plaza, Zeller Realty Group **
Earth
Accenture Tower, CBRE **
Corporate
Target Plaza **
2012
100,000 - 249,999 Square Feet
One Southwest Crossing, Colliers International *
500,000 - 1 Million Square Feet
RBC Plaza/Gaviidae Common II *
Over 1 Million Square Feet
IDS Center, Inland American Office Management **
Renovated
Wells Fargo Plaza, Zeller Realty Group **
Earth
Fifth Street Towers, Carter *
Corporate
Target Plaza **
2011
100,000 - 249,999 Square Feet
One Southwest Crossing, Colliers International *
250,000 - 499,999 Square Feet
Northland Center *
500,000 - 1 Million Square Feet
Campbell Mithun Tower *
Over 1 Million Square Feet
Capella Tower, Ryan Companies *
Over 1 Million Square Feet
IDS Center, Inland American Office Management *
Government
Hennepin County Government Center *
Renovated
Metropoint ***
Corporate
Wells Fargo Home Mortgage *
2010
500,000 - 1 Million Square Feet
Campbell Mithun Tower *
500,000 - 1 Million Square Feet
Fifty South Sixth, Hines *
500,000 - 1 Million Square Feet
LaSalle Plaza, Zeller Realty Group *
500,000 - 1 Million Square Feet
US Bancorp Center, Piedmont Office Realty Trust *
500,000 - 1 Million Square Feet
Accenture Tower, CBRE ***
Over 1 Million Square Feet
US Bank Plaza, Hines *
Over 1 Million Square Feet
IDS Center, Inland American Office Management **
2009
500,000 - 1 Million Square Feet
601 Tower, CBRE ***
500,000 - 1 Million Square Feet
Carlson Center, Carlson Real Estate Company ***
500,000 - 1 Million Square Feet
Crosstown North Business Center, Duke Realty ***
500,000 - 1 Million Square Feet
The West End, Duke Realty *
500,000 - 1 Million Square Feet
Edina Corporate Center, Opus Northwest Management *
500,000 - 1 Million Square Feet
Fifth Street Towers, Carter ***
Over 1 Million Square Feet
Metropoint, Cushman & Wakefield *
Over 1 Million Square Feet
US Bancorp Center, Piedmont Office Realty Trust *